It's very common that we have parts of ourselves that we don't like perhaps our nose, fats around the belly, or those big, saggy dark circles under our eyes. Uh- huh ! These "problems" we encountered in our life create a nagging sense of sadness whenever society question our existence as normal and constantly criticize us for meeting the beauty standards we're held against. 
With increasing screen time on social media, we are mirroring ourselves more often and causing a switch from a desire of our "want" to "need" as we strive for a perfect look in our life. The generation today seems perfectly happy to post a selfie on Instagram right after their rhinoplasty or to share their recovery process after a breast augmentation in their social media circle. Celebrities are also regularly sharing about the procedures they've had performed through social media. YES! More Malaysian are going for cosmetic surgery that aims to enhance our outside appearance and our team is so excited to share with you an updated list of Top 2 Proven Cosmetic Surgery In Malaysia 2022 & some common tips you should have known before any cosmetic surgery. 
#3 COSMETIC SURGERY IN MALAYSIA -EYE BAG REMOVAL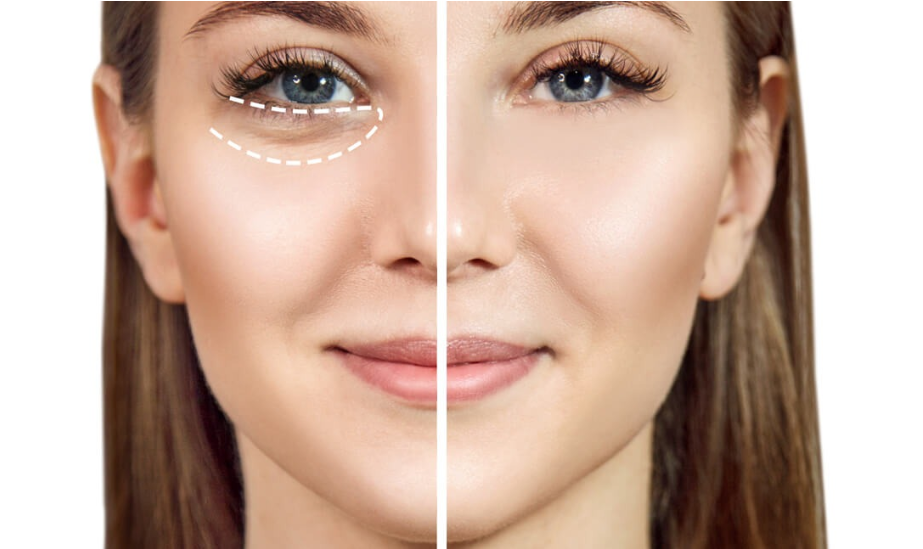 Eye bag removal surgery works by removing excess fat and skin from the under-eye area, giving it a tighter appearance. This surgery requires a precise and delicate approach. The ideal candidate for this surgery is individuals who are 
Physically and psychologically healthy

Look tired even with adequate sleep, have under-eye bags that are present throughout the day & night

Do not have any health conditions such as high blood pressure and glaucoma

18 years of age and above
Eye Bag Removal Surgery Procedure
There are several surgical techniques available to remove the eye bags. The technique used depends on your goals, as well as your anatomy. 
Before the procedure, your surgeon will mark your lower eyelids to help them know where to make incisions. Then, you will be given either a general or local anesthetic. With general anesthesia, you will be asleep throughout the procedure, while with local anesthesia, only the affected area is numbed.
Your surgeon will begin to create incisions. The location of the incision will depend on the technique used:
Traditional Eye bag removal (blepharoplasty) involves creating an incision just under the eyelashes. Then the fat is extracted from the lower lid and some excess skin is removed.

Transconjunctival blepharoplasty involves an instrument called electrocautery to create a cut inside your lower eyelid instead of the regular incision outside.

Pinch blepharoplasty involves extracting fat through the inside of your eyelid. Then, a "pinch" of skin from the area is removed.

Canthopexy is the simplest way to eliminate eye bags. This procedure involves tightening the lower eyelid and elevating its position.
Success Rate of Eye Bag Removal Surgery 
Eye bag removal is safe and effective and the results look very natural. However, you need to be aware that all surgical procedures carry possible risks and side effects. For eye bag removal, the potential risks include double vision, bleeding, cyst on the area where the skin was sewn together, drooping upper eyelid, necrosis, excessive muscle removal, infection, skin discoloration, vision loss, and numbness.
Alternatives to Eye Bag Removal
The two main alternatives to this procedure are: 
Dermal fillers

– Dermal fillers are sometimes used to improve the look of the under-eye area. However, you need to be aware that dermal fillers are not FDA-approved to be used for under-eye issues.

Laser skin resurfacing

– This procedure involves the use of lasers, such as Erbium Yag lasers or CO2 to tighten the skin under the eyes. Although it is effective and less invasive, those with dark skin tones are not recommended to try this procedure as the laser can cause discoloration on highly pigmented skin.
Expectations Before and After the Procedure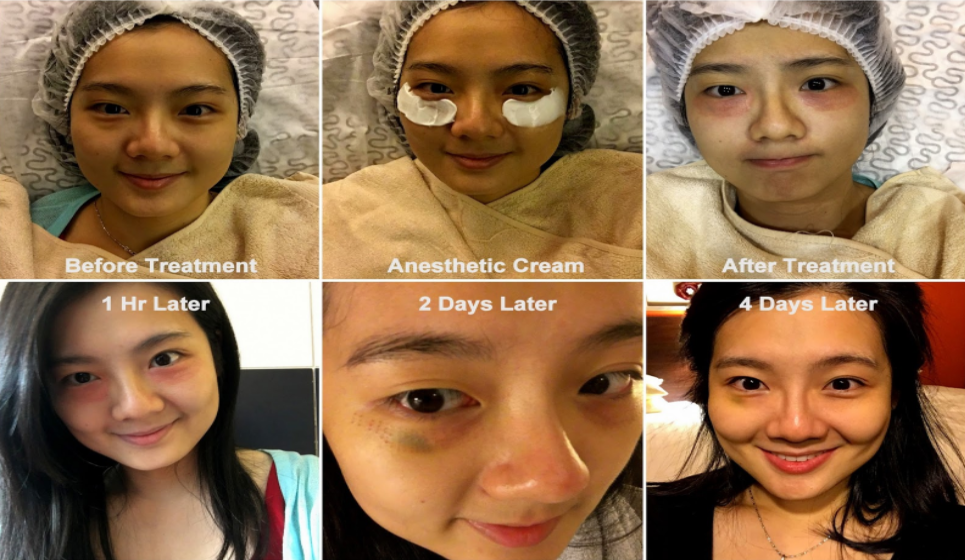 Before eye bag removal, you may have eye bags that make you look tired and older. For some people, having eye bags also make them feel more self-conscious and unconfident. After the procedure, your eye bags should be gone. You will look refreshed and rejuvenated and this procedure will give you a huge confidence boost. Let's check out the relevant reviews below to help you make your decision!
Source: https://www.klaesthetic.com/
Brief: Getting married is any women's dream & one of our life's biggest events. Meet Mitchell with her concern on the best look for her wedding day, she decided to go for cosmetic surgery to remove her eye bags. With a heavy set of eye bags, she looks tired and reclusive all the time. 
Process: In Mitchell's case, only mild redness can be observed over the treated area, which is expected of the procedure. Mitchell was advised that she will notice a progressive improvement in her condition, as the procedure involves the destruction of fatty cells underneath the eye bag. With a proper amount of healing time, a better visible result can be witnessed.
Review: Mitchell is extremely happy with the treatment, as she accomplished a reduction in her eye bag by soft-surgery approach. Best of all, the procedure yielded a silkworm alike lining under her eyes, a formation that conveys charm and perceptive-looking eyes.
Eye Bag Removal Surgery Cost in Malaysia
The cost of eye bag removal surgery in Malaysia varies from RM 5,000 to 8,000. This mainly depends on the plastic surgeon, the type of anesthesia (local or general), and the facilities. In Malaysia, only plastic surgeons and oculoplastic surgeons are allowed to perform eye bag removal surgery in accordance with the aesthetic practice guidelines by the Malaysian Ministry of Health.
Best Eye Bag Removal Surgeons In Malaysia
M.B.B.S.(Melb) – 1988; F.R.C.S.(Edin) – 1993
Beverly Wilshire Medical Centre | Beverly Wilshire Medical Centre Reviews
Level 6, 8 & 9, Kenanga Tower, No. 237 Jalan Tun Razak, 50400 Kuala Lumpur, Malaysia.
MBBS (Madras) – 1989; FRCS (Plastic Surgery) – 1993
Pantai Hospital Kuala Lumpur | Subang Jaya Medical Centre | Assunta Hospital
Dr. Azhar Bin Zainuddin (Oculoplastic surgeon and ophthalmologist)
MBBS, MS (Ophthalmology) UM
Wisma Life Care, 5, Jalan Kerinchi, Bangsar South, 59200 Kuala Lumpur, Malaysia.
MB, BCH, BAO – 1991; FRCS (Plastic Surgery) – 2001
Prince Court Medical Centre
39, Jalan Kia Peng, 50450 Kuala Lumpur, Wilayah Persekutuan, Malaysia.
#2 COSMETIC SURGERY IN MALAYSIA -BREAST AUGMENTATION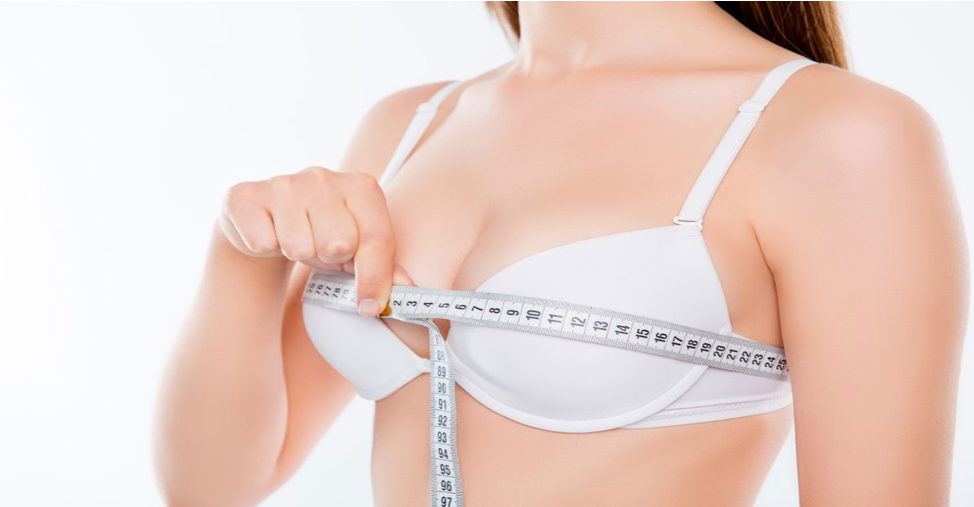 Every woman has the right to feel beautiful and confident with her appearance! Breast augmentation is one of the most popular cosmetic surgery procedures in Malaysia. This procedure involves either using breast implants or fat transfer to increase the size of the breast. 
Fat transfer breast augmentation is a minimally invasive procedure that can be used to increase breast size.  Malaysian Review is here to provide you with essential useful information related to the fat transfer breast enlargement procedure in Malaysia.
You are the ideal candidate for breast augmentation surgery if you meet the below characteristics:
When both breasts are fully developed that vary in size or shape

Breasts that are too small

Loss of breast shape and volume after pregnancy, weight loss, or with ageing

One or both breasts failed to develop normally

Healthy individuals who do not have medical conditions that can impair healing or increase the risk of surgery

Individuals with a positive outlook and realistic expectations

Non-smokers
*Do take note that slim ladies with a low-fat percentage may not be suitable.
Benefits of Breast Augmentation Surgery
The fat transfer breast augmentation comes with some major benefits:
Reduces extra fats in areas such as tummy and upper arms

The fat is then moved to upsize your breasts 

This procedure is virtually scarless

Very short recovery period. You'll be able to return to work in 1 – 2 days, with the only discomfort being an aching sensation in the tummy area.
Breast Augmentation Procedure in Malaysia
A breast augmentation procedure includes the following steps:
Step 1 – Anesthesia
Medications are administered for your comfort during the surgical procedure. The choices include intravenous sedation and general anesthesia. Your doctor will recommend the best choice for you.
Step 2 – The incision
Incisions are made in inconspicuous areas to minimize visible scarring. Discuss with your surgeon which incision options are appropriate for your desired outcome. Incision options include along the areolar edge (peri-areolar incision), the fold under the breast (inframammary fold), and in the armpit (axillary incision). A belly-button approach is associated with a higher complication rate.
Please take note that Incisions vary based on the type of breast implant, degree of enlargement desired your particular anatomy, and patient-surgeon preference.
Step 3 – Inserting the breast implant
After the incision is made, a breast implant is inserted into a pocket either:
Under the pectoral muscle (a submuscular placement)

Directly behind the breast tissue, over the pectoral muscle (a submammary placement)
The method for inserting and positioning breast implants depends on the type of implant, degree of enlargement desired, your body type, and your surgeon's recommendations.
Step 4 – Closing the incisions
Incisions are closed with layered sutures in the breast tissue and with sutures, skin adhesive, or surgical tape to close the skin.
Over time the incision lines will fade off. The quality of a scar depends on many things, including your genetics, exposure of your body to nicotine, and infection.
Step 5 – See the results
The results of breast augmentation are immediately visible. 
Breast Augmentation Cost in Malaysia
Fat transfers to the breasts may cost around MYR 16,000 to MYR 20,000 per session while breast implants may cost approximately MYR16,000 to MYR 23,000 in Malaysia.
Do take note that fat transfer to the breasts basically involves two major procedures for example liposuction and breast augmentation. Double-check with your plastic surgeon on the total cost and the breakdown.
Alternatives of Breast Augmentation
Fat Transfer Breast Augmentation

which is known as natural breast augmentation benefits from the use of

liposuction

to harvest the fat to be transferred and injected into the breast, allowing the surgeon to remove unwanted fat from stubborn areas anywhere in the body as part of this procedure. This procedure is completely natural and organic. 

Breast implants

can be placed above or below the pectoralis major muscle. This placing can have a huge impact on the natural appearance of the breasts. You should discuss with your surgeon surgeons will discuss with you where is the best place to ensure a natural result.

Fat transfer techniques

can also be applied to make implants appear more natural.
The Most Natural Looking Breast Enhancement
Certified & professional surgeons in Malaysia comes with higher success rates for those who aims for natural-looking breasts. Fat Transfer Breast Augmentation or a low profile implant is the best ways to a natural-looking result, particularly when combined with fat transfer to the breasts. 
Breast Augmentation Review in Malaysia 
Source: http://drng.com.my/testimonial
Brief: Meet Mrs.Ng, with her concern about the size of her breasts. She wants to look good in her outfit and lift her confidence by having  perky-looking boobs. 
Process: She had breast augmentation & breast implant surgery. The surgery went well, as well as the recovery period. She had a 440cc round, textured silicone implant placed under the muscle in the dual plane. The incision was done at periareolar, and the results are amazingly superb. Her surgeon guided her on the implant size needed to achieve her desired perky-looking breast.
She booked a day-care appointment and surgery date with a deposit. She's impressed with the nursing service and complimented on the privacy concern paid to her during the entire process.  On the day of surgery, everything went smoothly, from registration, consultation, sizing and measurement, and the surgery itself. 
Remark: Everything was done professionally. She requested for discharge after surgery as her husband came along and he's taking care of me. Dr. Ng provided me with enough medications to help relieve my pain and for recovery. Overall I'm 100% satisfied of the result & services. 
Best Fat Transfer Breast Augmentation in Malaysia
Choosing the right plastic surgeon and the right medical center or clinic for the right procedure is both complex and challenging. There is no one size fits all answer. Please be aware that under the Malaysian Ministry of Health Aesthetic Practice Guidelines, fat grafting procedures can only be performed in a licensed medical clinic by a registered plastic surgeon with LCP Chapter 3 license.
Here are the top plastic surgery clinics in Malaysia for breast augmentation.
Beverly Wilshire Medical Center
Plastic Surgeon: Dr Mohamad Nasir Zahari
M.B.B.S.(Melb) – 1988; F.R.C.S.(Edin) – 1993
Specialization: facelift, liposuction, tummy tuck, breast surgery, cleft, craniofacial surgery, burns care.
Address: Level 6, 8 & 9, Kenanga Tower, No. 237 Jalan Tun Razak, 50400 Kuala Lumpur, Malaysia 
Gleneagles Kuala Lumpur 
Plastic Surgeons:
Dr George Varughese
MBBS(Sydney) – 1989; FRCS(Edin) – 1995
Specialization: Facial, Breast Aesthetic Surgery, Tissue repair, and rejuvenation
Dr. Benjamin George
MBBch, BAO, LRCP & SI, AM (Mal), FRCS (Edin)
Specialty : Plastic Reconstructive & Aesthetic Surgery
Special Interest : Breast Surgery, Liposuction
Address: Block A & Block B, 286 & 288, Jalan Ampang, 50450 Kuala Lumpur.
Prince Court Medical Centre
Plastic Surgeon: Dr. Yap Lok Huei
MB, BCH, BAO – 1991; FRCS (PLASTIC SURGERY) – 2001
Sub Specialty: Microsurgery, cosmetic surgery, cancer reconstruction
Special Interest: Fat grafting, liposuction, body contouring
Address: 39, Jalan Kia Peng, Kuala Lumpur, 50450 Kuala Lumpur, Wilayah Persekutuan Kuala Lumpur.
Pantai Hospital Kuala Lumpur (Pantai Bangsar)
Dr Kuladeva Ratnam 
MBBS (Madras) – 1989; FRCS – 1993 
Specialization: Reconstructive plastic surgery, cosmetic surgery, wound care, limb salvage
Dr. Tan Kim Hong
MBBS (UK) – 1981; FRCS – 1986 
Address: No. 8, Jalan Bukit Pantai, Taman Bukit Pantai, 59100 Kuala Lumpur, Malaysia