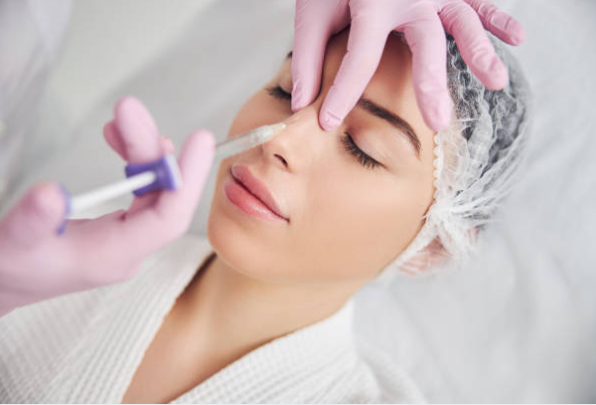 What Should You Not Do Before Rhinoplasty Surgery?
Alcohol consumption

— Avoid drinking at least a week before the surgery. Alcohol can alter the effect of anesthetic medicine. It can also interfere with blood clotting.

Smoking

— Do not smoke cigarettes at least a week before the surgery and during the recovery period. The chemical substances in cigarette smoke will interfere with respiratory function and anesthesia drug metabolism.

Exposure to UV rays

— Skin exposure several days before the surgery might come with certain negative effects during the surgery and recovery period. For instance, getting a sunburn before the surgery could increase the risk of inflammation and bleeding. It could also slow down the recovery process.

Complicated skincare regimen

— Your surgeon will examine your cosmetic products and he or she should actually explain to you which topical creams, cleansers, and makeup to avoid at least four days before the surgery. 

Improper diet & lifestyle

— Keeping up a regular sleeping and healthy eating lifestyle is also significantly important to help with the progress of the procedure. 
You can browse the below Top 10 clinics or medical centers that are offering rhinoplasty surgery procedures in Malaysia. Pick your favorite!
Beverly Wilshire Medical Centre
Enquire about an appointment with Beverly Wilshire Medical Centre for Scarless and Natural Looking Rhinoplasty. You can get your personalized rhinoplasty surgery plan for the desired outcome.  
Beacon International Specialist Centre
At Beacon Hospital, all our Plastic, Aesthetic, and Reconstructive Surgeons are highly educated and experienced to the highest standards. They are all Specialist Registered in Ireland. All procedures are carried out in our state-of-the-art theatres and are supported by the full-service hospital.
Kalo Cosmetic Surgery – KL, Mid Valley
Kalo Cosmetic Surgery is open daily. There are different types of nose reshaping therapy available. The procedures include Rhinoplasty, Alarplasty, Nose Thread Lift, Nose Bridge Thread Lift, Non-surgical nose job in Malaysia, Nose Thread Lift, and others. 
Gleneagles Hospital Kuala Lumpur
Gleneagles Hospitals offers a wide range of plastic and reconstructive surgery procedures including all aspects of hand surgery, breast surgery, treatment of skin cancers especially reconstruction after cancer ablation, Tummy tuck and correction of post-delivery weakness and scars, liposuction and cosmetic surgery including facelift, blepharoplasty(lid lift), rhinoplasty surgery injection of botox and fillers.
KPJ Ampang Puteri aims at offering Malaysia the best plastic consultation and reconstructive surgery including nose reconstruction, craniofacial surgery, hand surgery, microsurgery, and the treatment of burns in order to improve the external appearance. 
Pantai Hospital Kuala Lumpur
Pantai Hospital Kuala Lumpur is a multi-specialty hospital in Malaysia and is amongst the renowned hospitals of Parkway Pantai Limited (Pantai Group). Dr. Kuladeva Retnam @ ARC Pantai Hospital is a Skin (Dermatology) and Plastic Surgery clinic located at the city center on the 5th Floor, of Pantai Hospital Kuala Lumpur. 
Dr. Cheong Plastic Surgery Clinic
Cheong Plastic Surgery Clinic offers a wide range of plastic, cosmetic and reconstructive procedures that help to enhance the beauty and image of the patients. High-quality services are provided in a safe, comfortable, private, and relaxed environment. 
Clinic Laser and Cosmetic Surgery Ling
Dr. Ling's Skin and Laser Surgery Clinic is located in Petaling Jaya, Malaysia. Offering a wide variety of Skin and Laser Surgery, as well as popular non-surgical procedures to enhance the skin. All procedures are conducted utilizing advanced technology and are performed by an experienced plastic surgeon who is fully qualified and competent. 
Prince Court Medical Centre
You can find a full range of plastic and reconstructive surgery services available at Prince court medical center, providing patients with specialized care and treatment solutions. Surgical treatments range from skin lesion removal to complex reconstructions.
ALPS Medical is proud to offer the best in plastic surgery, medical aesthetic, wellness, and anti-aging solutions. Dr. GEORGE Jr. is currently Consultant Plastic Surgeon at Gleneagles Hospital Kuala Lumpur and George Plastic Surgery Clinic. Armed with more than 30 years of experience as a doctor in various fields and more than 22 years specializing in plastic surgery, Dr. GEORGE Jr. is undoubtedly a well-sought-after doctor.
What should I eat the day before a nose job or rhinoplasty surgery?
Eating right can go a long way in helping to prevent postoperative swelling and inflammation, and can assist the incisions in healing at a faster rate. You should be prepared to start making changes at least 4-6 weeks before your surgery date. Start by avoiding processed foods and refined carbohydrates, which can promote inflammation.
The best foods are whole foods, such as fresh fruits and vegetables, fish, eggs, beans, avocados, nuts, seeds, and whole grains. Anything from a box, can or container is going to be less than ideal for your body at this time. Berries are a great way to start your day because they contain antioxidants and easily absorbed nutrients. You should also consider eating non-starchy vegetables throughout the day, including:
Artichokes

Asparagus

Celery

Onions

Leeks 

Bell peppers

Cauliflower

Broccoli

Cabbage

Zucchini

Green beans

Brussels sprouts

Cucumbers
Note that caffeinated beverages, carbonated beverages, and alcohol should all be tapered off before surgery.
Finally, don't underestimate the importance of drinking enough water. Drinking at least eight glasses of water each day helps to keep your digestion working well and your skin clear.
Three weeks before surgery:
Stop taking all nutritional and herbal supplements (vitamins, herbals, minerals, etc.). A complete list will be given to you during your preoperative appointment.
*The only exceptions to this are calcium, Vitamin D, and iron.
What should I wear for a nose job?
It is best to dress casually and comfortably on surgery day in clothes/shoes that will be easy to put on when you leave the surgery center and remove when you get home. When you arrive at the surgery center you will be given a small locker to place your belongings and provided with a surgical gown to change into. You will put the clothes you came in back on before you head home.
How long does a rhinoplasty surgery last?
While some cosmetic procedures require an upgrade after several or more years, this is not true of a rhinoplasty surgery. A good rhinoplasty will last you a lifetime, so it is important to choose the right surgeon. Important factors to consider when choosing a surgeon are:
How recently have they performed the procedure you are going in for?

Do they have a portfolio of their work?

Are they certified to perform the specific procedure you are looking for?

Do you feel comfortable with them?
Although surgery alters the shape and size of your nose, it does not change who you are. It will help you to gain or regain your self-confidence, and boost your self-esteem. The change is real and the results are lasting.
What is the best age for rhinoplasty surgery?
While there is no definite right age to have rhinoplasty surgery, between 18 and 40 is considered an ideal range. By this time you have developed physically and in maturity to be a good candidate for rhinoplasty, and your skin still maintains youthful elasticity.
How painful is a rhinoplasty?
Not for most people. One day after surgery, most people rate their pain between 0 and 4 out of 10. 
How long does a rhinoplasty Surgery last?
While some cosmetic procedures require an upgrade after several or more years, this is not true of a rhinoplasty. A good rhinoplasty will last you a lifetime, so it is important to choose the right surgeon.
Will I get bruises after rhinoplasty?
Rhinoplasty has the potential to produce beautiful, life-changing results. But like all plastic surgery procedures, rhinoplasty has inherent risks and side effects, such as bruising. The truth is, a certain degree of bruising around the nose is to be expected immediately following the procedure. Other patients may experience bruising around the eyes, creating a "black eye" effect. 
What Causes Black Eyes After Rhinoplasty Surgery?
Bruising occurs when damaged blood vessels get trapped underneath the skin, causing a blue or purple bruise on the skin. After rhinoplasty surgery, blood vessels get trapped along the orbital rim of the eye, creating the appearance of a black eye. Additionally, some people may experience inflammation and swelling around the eyes. While aftereffects such as these are undesirable, they (and most other aftereffects of rhinoplasty) are only temporary. They tend to dissipate within seven to 10 days. However, other patients may experience swelling and bruising for several weeks or months after surgery. This will ultimately depend on the patient's healing process and post-op recovery care.
How much do nose jobs or rhinoplasty surgery cost in 2023?
The cheapest price of rhinoplasty surgery in Malaysia is available at RM 4,897. The average price of a rhinoplasty (nose job) in Malaysia is 5,000. This average cost is only part of the total price – it does not include anesthesia, operating room facilities, or other related expenses. For more information about rhinoplasty surgery in Malaysia, please CONTACT US NOW.